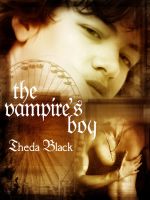 Quick review because it's late at night, or rather very early in the morning, and I should be sleeping, but here's another story I read and discovered to be a good read.
I gave this a four star over on Amazon.
I really liked The Vampire's Boy for the atypical vampire, as compared to the modern treatment of vampires we usually see, the romanticized one that's sexy. In this story, the vampire is tragic and scary. Brilliant story. I knocked off a star solely for some slow parts that made me start skimming to get through them. Overall, very decent read. The characters were easy to relate to, and the vampire was creepy, and no matter when not present, he seemed like he was. Creepy indeed.
There are some hot scenes between guys, three of them, but the love story between the main character and his best friend is sweet and brave and really made this story special, most especially because of that vampire.
Really enjoyed it. Recommended.